The focus of the research activities of our Competence Center is concentrated on clinical and experimental trials. The subject of examination is molecular and cellular mechanisms, which provide insights on the pathogenesis of periodontal disease and periodontal tissue regeneration.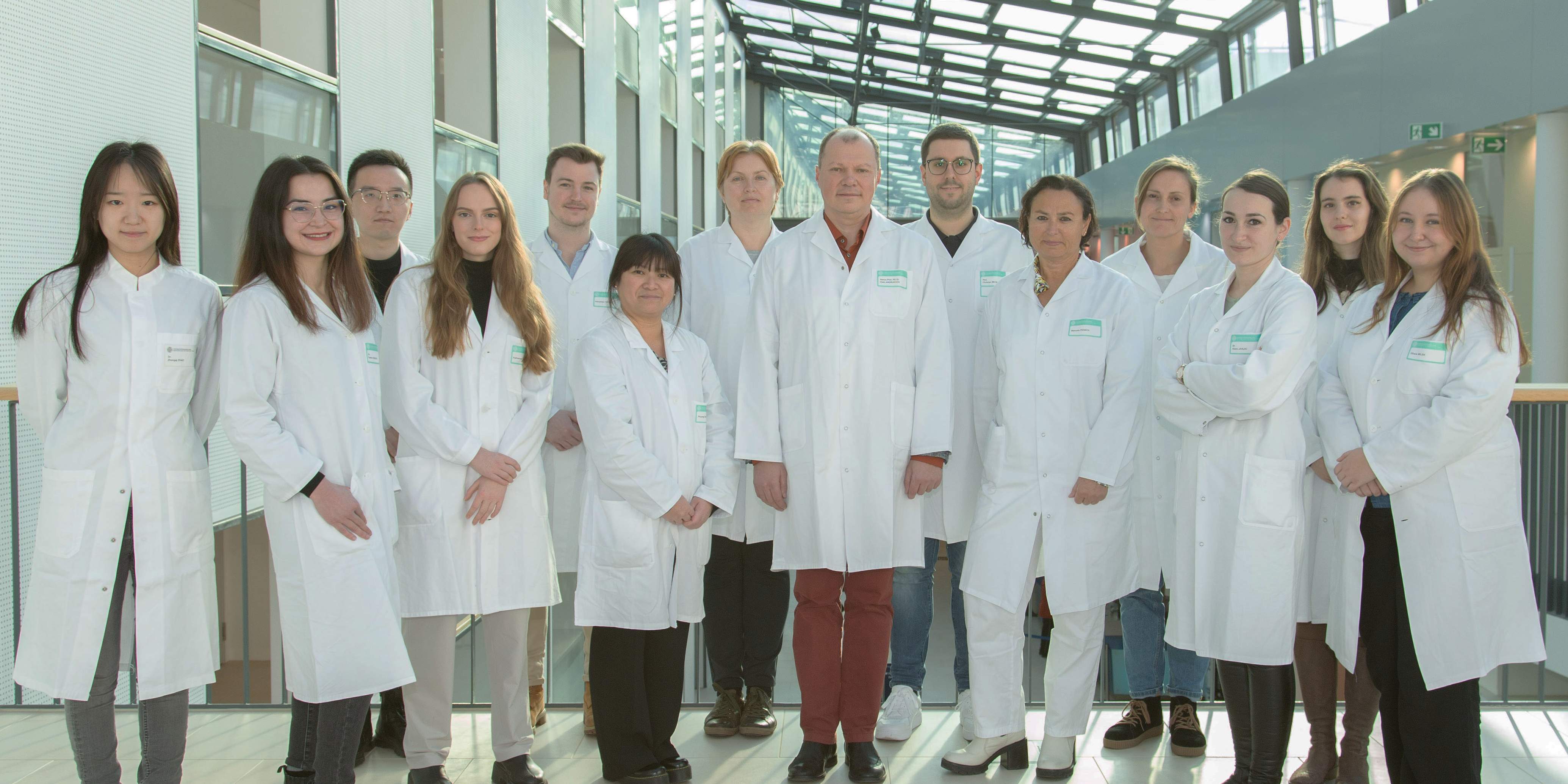 ---
Research Focus and Projects
The research activities of the Competence Center for Periodontal Research are varied and cover many aspects of periodontal health, disease and regeneration, in the clinical research field as well as fundamental research. In the clinical field, our research focus lies on the development of diagnostic approaches which are based on the recognition of early detection markers in saliva, to develop new therapeutic methods or to modernise these methods. In addition, we examine the use of the newest bioactive materials and most modern implant surfaces in periodontal therapy. Another clinical focus is the application of a laser in periodontal therapy.

Our fundamental research is closely linked to clinical practice. Through basic cell-biological mechanisms, we study the various aspects of periodontal health and disease. We especially focus on the mechanisms of periodontal inflammations and the application of stem cells in periodontal therapy, as well as the properties of current implant surfaces at a micrometric and nanometric level.
Fleischmann Leonardo, doctoral student
Kobylyanskyy Oleksander, doctoral student
Singh Diwakar, doctoral student
Valkova Vesela, doctoral student
Zhou Wenjuan, doctoral student
Liu Jing, visiting researcher (China)
Na An, visiting researcher (China)
Zhang Jing, visiting researcher (China)
Zhang Fengqui, visiting researcher (China)
Zhang Yu, visiting researcher (China)
Zhou Jie, visiting researcher (China)
Shi Bin, Fujian, doctoral student
Ubaidha Maheen Ceeneena, doctoral student
Que Zhe, doctoral student
Blufstein Alice, graduate student
Bucek Bettina, graduate student
Bo-Sung Kim, graduate student
Ertlschweiger Sandra, graduate student
Gajic Jelena, graduate student
Hofer Julia, graduate student
Milanovic Dijana, graduate student
Muhlisic Emina, graduate student
Racaj Hana, graduate student
Regoda Mladen, graduate student
Rezban Cynthia, graduate student
Schöffl Elisabeth, graduate student
Schoiber Angelika, graduate student
Steiner Ilse, graduate student
Younes-Abhari Setareh, graduate student
Jasmin Holl, graduate student
Prof. Christina Schäffer, BOKU
International cooperation projects with the Austrian agency for international mobility and cooperation in education, science and research (OeAD) and Eurasia Pacific Uninet
EU-China projects with the Ministry of Science and Technology of the People's Republic of China
"Taishan Overseas Chinese Academic Expert" project of Shandong province, Yantai
"Meijiang Overseas Chinese Academic Expert" project with Fujian Medical University, Fuzhou, China
International ITI Research Grant (§ 26 projects)
Industry projects (§27 projects)
Peking University Hospital and School of Stomatology, China
Prof. Ye Lin, Prof. Huan Xin Meng
Affiliated Stomatological Hospital and School, Fujian Medical University, Fuzhou, Fujian, China
Prof. Chen Jiang
Yantai Stomatological Hospital, Yantai, China
Prof. Zhonghao Liu
Kanagawa Dental College, Department of Orthodontics, Yokosuka, Japan
Prof. Sadao Sato
Straumann Institute AG, Switzerland
ETH Zürich, Switzerland
National University of Kiev, Ukraine
---