In the research divisions at the University Clinic of Dentistry, a number of competence centers focus on a range of different topics. Research clusters, made up of the clinical research institutions of these divisions, work together with our competence centers to produce practice-oriented research for the University Clinic of Dentistry Vienna.
We Do Research for Your Smile
The cooperation of the scientific competence centers with the research clusters at the University Clinic of Dentistry makes it possible to bring into practice the results of our research. The range of research topics includes the Clinical Divisions of Orthodontics, Paediatric Dentistry, Oral Biology, Oral Surgery, Periodontology, Prosthodontics, Radiology and Conservative Dentistry.
Research at the University Clinic of Dentistry Vienna takes place in cooperation with national and international partners in academia and industry. With its research output, the University Clinic of Dentistry Vienna is an international leader. To ensure that the newest insights and developments of our research can be promptly put into clinical practice, further education events, as well as lectures, are scheduled regularly. This ensures a continuous sharing of knowledge between both researchers and those working directly in the field.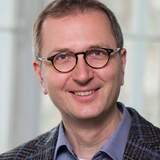 So That Good Ideas Don't Fall by the Wayside
Our in-house research clinic serves as a contact point for dental research projects. In this way, ideas can be substantiated in the framework of an "idea talk". More concrete research projects can also be launched in this way for a joint execution with the research division's competence centers.
Our intensive research work is reflected by the large number of publications in international scientific journals. The results of our research activities are made visible in the framework of national and international conferences.
Attractive Cooperation Partners – an Attractive Place for Guests
The University Clinic of Dentistry is a highly sought-after cooperation partner for international researchers, and there are a large number of publications based on this cooperation. Visiting researchers also join us regularly for both short and long periods of time to exchange ideas, learn about new technologies, and to conduct experiments at the School of Dentistry.