If one or more teeth are missing, this does not just affect the appearance of the dentition but also its functionality. With the appropriate dental prosthetics it is easier to chew, talk and smile, and the bone resorption of the jaw is slowed down.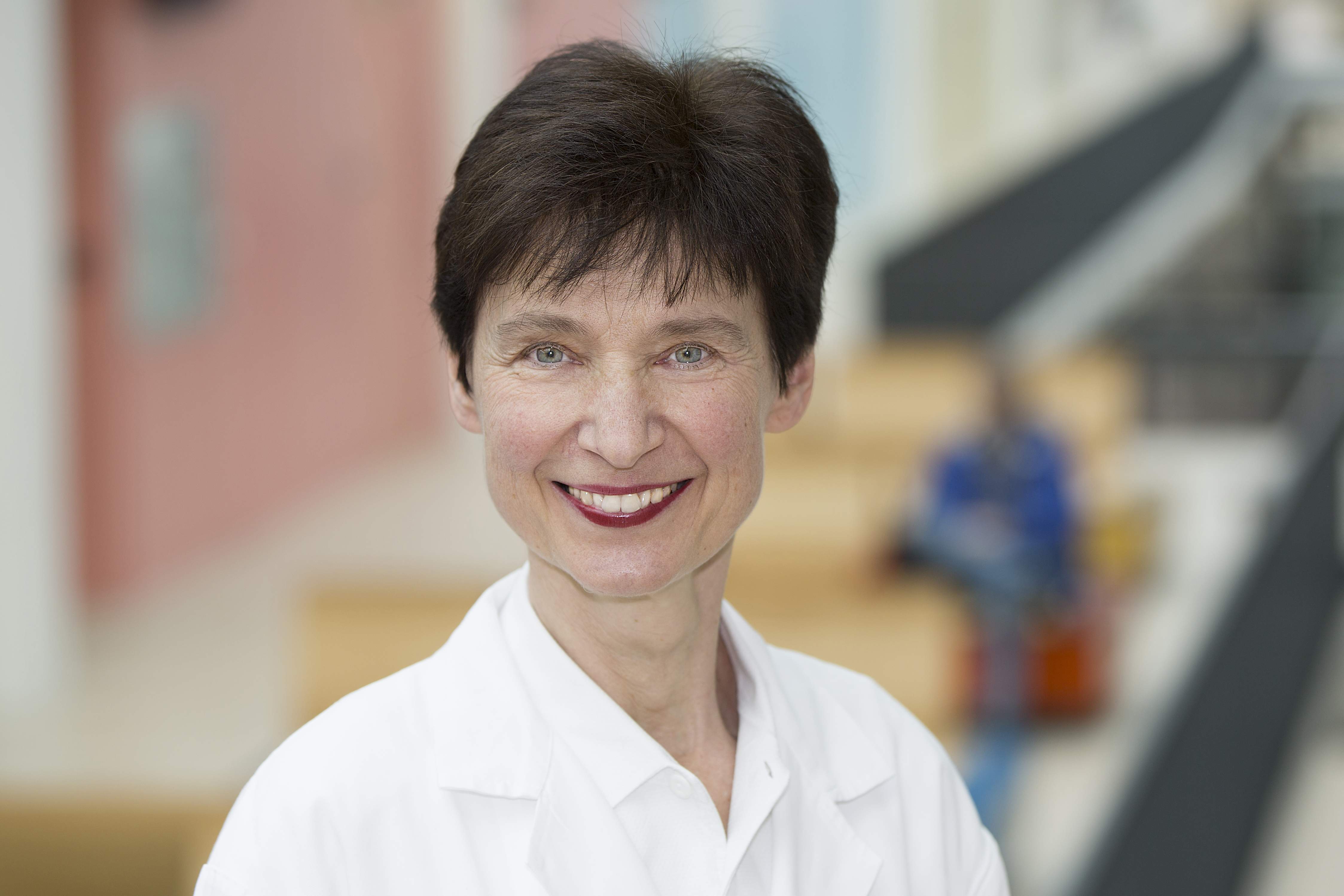 The loss of a tooth can be due to various reasons: caries, periodontitis or injuries and accidents. In the Clinical Division of Prosthodontics, we offer our patients up-to-date care which brings in line aesthetic and functional standards and individual requirements. We insist on the inseparable connection between the form and function of dental prosthetics. Only functionally good work leads to good aesthetic results. For the selection and manufacture of the dental prosthesis, objective criteria play a part as well the patient type and the patient's age. The complex prosthodontic reconstruction of the dentition requires a precise and extensive diagnosis before reconstructive measures can be started. To do this, a thorough medical anamnesis is necessary, as well as radiodiagnostics and the use of modern methods to exactly determine the position of the teeth and the movement of the temporomandibular (jaw) joint. For prosthodontic restoration, we use modern crown and bridge technology, partial and full prostheses and implants. In the care of our patients we focus on a holistic rehabilitation of the chewing organ with all its complex functions. Apart from our work in patient care, in teaching and research, we implement a wide variety of projects in the area of fixed and removable prosthodontics.
---
Range of Services
Prosthodontic restoration (prosthetics) must meet functional as well as aesthetic requirements. In our clinical division, we make a point of having the prosthetics fit into the remaining dentition without being distracting. At the same time, our aesthetic demands on prosthetic care are very high.
There are numerous ways to replace missing teeth through prosthodontic care. Depending on each case our specially trained dentists use fixed, removable or implant-supported prosthetics.
Among the fixed types of prostheses are inlays, overlays, bridge restorations, crowns or clasp crowns. These can be made out of a combination of metal and ceramics, only of metal or only of ceramics. If needed, modern technologies such as CAD/CAM processes are used to produce ceramic restorations. For CAD/CAM processes, the tooth's form is captured with the aid of a computer to manufacture precisely fitting inlays and crowns from transparent all-ceramics.
For the care of larger tooth gaps, partial prostheses are one possibility. If no clasps should be visible, then one can achieve an invisible hold with an attachment (connection of a removable dental prosthesis) or telescopic crowns. When providing the toothless jaw with full prostheses we emphasise the importance of optimal hold, good functionality and aesthetics.
For jaw and teeth, aesthetics and functionality go hand in hand. Good-looking teeth are attractive and give confidence. But for the patient's comfort, the chewing organ also needs to be completely and functionally restored.
Prosthetic restorations therefore need to withstand even great chewing pressure, must not cause pressure marks and should feel like one's own teeth. The dental prosthesis fits harmoniously in the dental arch and can barely be distinguished from the natural teeth.
Patients with a dysfunction of the temporomandibular joint cannot open their mouth very wide, which can be an impediment to dental treatment. With modern procedures, such as digital impression instead of a conventional one, we are also able to treat such patients well. The scanner for digital impression is very narrow and can therefore also produce very precise 3D images if the mouth is only slightly open. Based on these images, our in-house dental lab produces prosthetic restorations that fit perfectly and are therefore easy to insert.
Our Clinical Division is also in charge of the Special Clinic for Temporomandibular Disorders, whose dentists are especially qualified for the treatment of patients with temporomandibular joint problems.
Some patients are so afraid of going to the dentist's that they put the health of their teeth and their jaw at risk. We can counter this fear with hypnosis. The patient is put into a deep state of relaxation, which makes the stress go away. Under hypnosis, pain is often felt less acutely. A dental treatment under hypnosis is not just appropriate for patients with dental phobia, but also for those suffering from strong gag reflexes or an allergy against local anaesthesia.
---
Benefits of Implants
The implant is an "artificial root", usually made of titanium, which is inserted into the jaw instead of a missing tooth. The prosthetic is permanently attached to this implant.
Implants are not just used for individual crowns. In the event of a loss of several teeth the gap can be closed by a bridge, supported by implants. Implants also provide the best anchorage for removable prostheses, which do not fit well anymore due to bone resorption.
Compared to other types of prosthetics, implants have several advantages:
improved chewing strength, improved chewing experience
clearer speech
lesser reduction of the alveolar crest
the remaining teeth are spared because implants do not require abrasion, unlike other types of dental prosthetics
better hold of prostheses
aesthetic: the dentition looks better
---
Academic Focus
In the framework of research projects, we conduct clinical studies on prosthetic rehabilitation, diagnostics and the therapy of temporomandibular disorders. Clinical studies analyse the relation of posture and mandibular position as interdependent systems.
In addition, we test dental materials as well as adhesive processes in materials science studies. Further clinical studies deal with implant and other prosthetic restorations in clinical trials.
The Clinical Division of Prosthodontics of the University Dental Clinic Vienna has a long tradition in the application of principles of individualized functional dentistry and in conducting clinical interdisciplinary work. The Clinical Division of Prosthodontics and, especially, its subdivision Special Clinic for Temporomandibular Disorders (CMD) Functional Diagnostics / TMJ therapy integrate the teachings of Professor Rudolf Slavicek (Vienna, Austria, 1928 – 2022), who founded the Clinical Division of Prosthodontics in 1978 and directed it until 1997 and led the University Dental Clinic Vienna from 1992 to 1997 (https://www.unizahnklinik-wien.at/en/news/detailseite/nachruf-univ-prof-dr-rudolf-slavicek/).
Accordingly, the Clinical Division of Prosthodontics to dentistry is based on the understanding of the stomatognathic system as an integrated set of structures acting in concert for the accomplishment of complex and vital functions. Thus, its reciprocal influences with the rest of the body must be appreciated for the correct assessment of the patient´s condition. Consequently, advanced clinical, instrumental and conceptual approaches are applied for oral rehabilitation are taught to undergraduate students and are applied in the clinical work with patients.
The concepts applied within the Clinical Division of Prosthodontics in patient care and student education require an accurate and thorough diagnosis for the comprehensive evaluation of the stomatognathic system and the general well-being of the patient. The diagnostic protocol includes the clinical evaluation of the patient (by means of questionnaires, muscle palpation, and evaluation of neck and lower jaw mobility), production of study dental casts mounted via face-bow in the semi- and fully programmed articulator, the functional assessment of the stomatognathic system (using also occlusogram, brux-checker, and condylography) and image diagnostic (including panoramic, x-ray, MRI, CBCT or CT based on the patient´s needs). Such thorough diagnosis allows the practitioner to better understand the patient´s condition and thus design individualized treatment.
The treatment is planned in an interdisciplinary setting, considering that the various functions of the stomatognathic system, including mastication and swallowing, respiration, speech and stress management. Thus, dentists team up with speech therapist, ear-nose-and-throat specialists, orthopedists and psychologists, among other professionals, to address the particular needs of the patients. For oral rehabilitation, a wide range of therapeutic approaches are considered, including initial therapy for pain reduction, physiotherapy, and finally oral rehabilitation by means of splints, prosthodontic or orthodontic techniques and implants.
In planning and performing dental work, accuracy is key to ensure that the stomatognathic system is in harmony with the craniofacial parameters of the individual patient. Thus, high-standard protocols are followed for the production of dental casts and for the fabrication of splints and protheses based on the dental casts which are articulated in the lab to preserve their relationship as in the patient´s mouth. Full-mouth reconstruction of edentulous patients can also be performed following the same principles.
The Clinical Division of Prosthodontics also collaborates tightly with the Vienna School of Interdisciplinary Dentistry – VieSID e.V. http://dev.viesid.com/ an association originally founded by Slavicek in 2008 and resting on his diagnostic and therapeutic principles to advance individualized functional dentistry by performing research and since 2016 providing postgraduate courses in cooperation with the University Clinic of Dentistry of the Medical University of Vienna.
---
Making an Appointment
Head of the Clinical Division: O.Univ. Prof.in DDr.in Eva Piehslinger
---