Dental Innovation Award der Stiftung Innovative Zahnmedizin geht nach Wien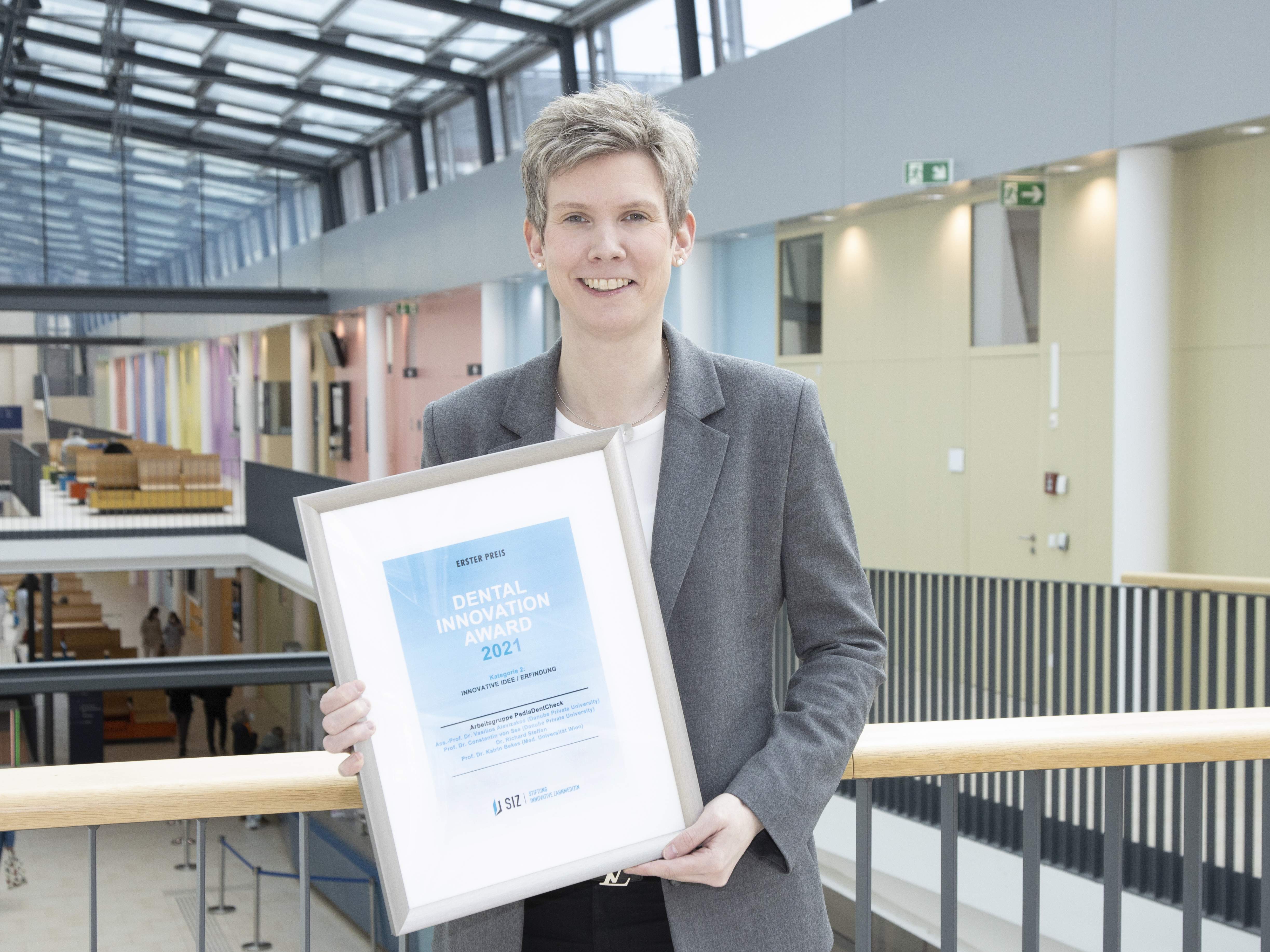 (Wien, 08-03-2022) Bereits Ende 2021 wurde Univ.-Prof. Dr. Katrin Bekes, MME, von der Stiftung Innovative Zahnmedizin im Rahmen eines österreichisch-schweizerischen Kooperationsprojektes mit dem Dental Innovation Award (DIA) in der Kategorie "Innovative Konzepte" mit dem ersten Preis ausgezeichnet. Die offizielle Übergabe der Urkunde fand coronabedingt jedoch erst jetzt statt. Der Preis wird jährlich unter der Schirmherrschaft der Deutschen Gesellschaft für Zahnerhaltung (DGZ) vergeben und war in diesem Jahr mit 4000 Euro dotiert.
Die Arbeitsgruppe um Prof. Bekes entwickelt derzeit eine App zur Analyse von Strukturstörungen der Zahnhartsubstanzen mit dem Schwerpunkt der Molaren-Inzisiven-Hypomineralisation (MIH, "Kreidezähne") mittels künstlicher Intelligenz. In der ausgezeichneten Studie wurden Fotografien verschiedener zahnmedizinischer Pathologien (MIH, Amelogenesis imperfecta, Karies, Fluorose) bereitgestellt und analysiert, inwieweit die Anwendung neuronaler Netzwerke für die Diagnose von MIH und anderen Pathologien möglich ist. Für die untersuchten Netzwerke wurden in der Erkennung der Pathologien Genauigkeiten von bis zu 93% beobachtet.
Zur Person
Katrin Bekes ist Leiterin des Fachbereichs Kinderzahnheilkunde der Universitätszahnklinik Wien. Sie ist derzeit Präsidentin der Deutschen Gesellschaft für Kinderzahnheilkunde (DGKiZ), Vizepräsidentin der Österreichischen Gesellschaft für Kinderzahnmedizin (ÖGKiZ) und Councillor des Landes Österreich in der European Academy of Paediatric Dentistry (EAPD) und der International Association of Paediatric Dentistry (IAPD). Prof. Bekes gründete das österreichweit einzige Kompetenzzentrum für Patienten mit MIH (Spezialambulanz Mineralisationsstörungen) und hat u.a. auf diesem Gebiet vielfach publiziert und referiert.