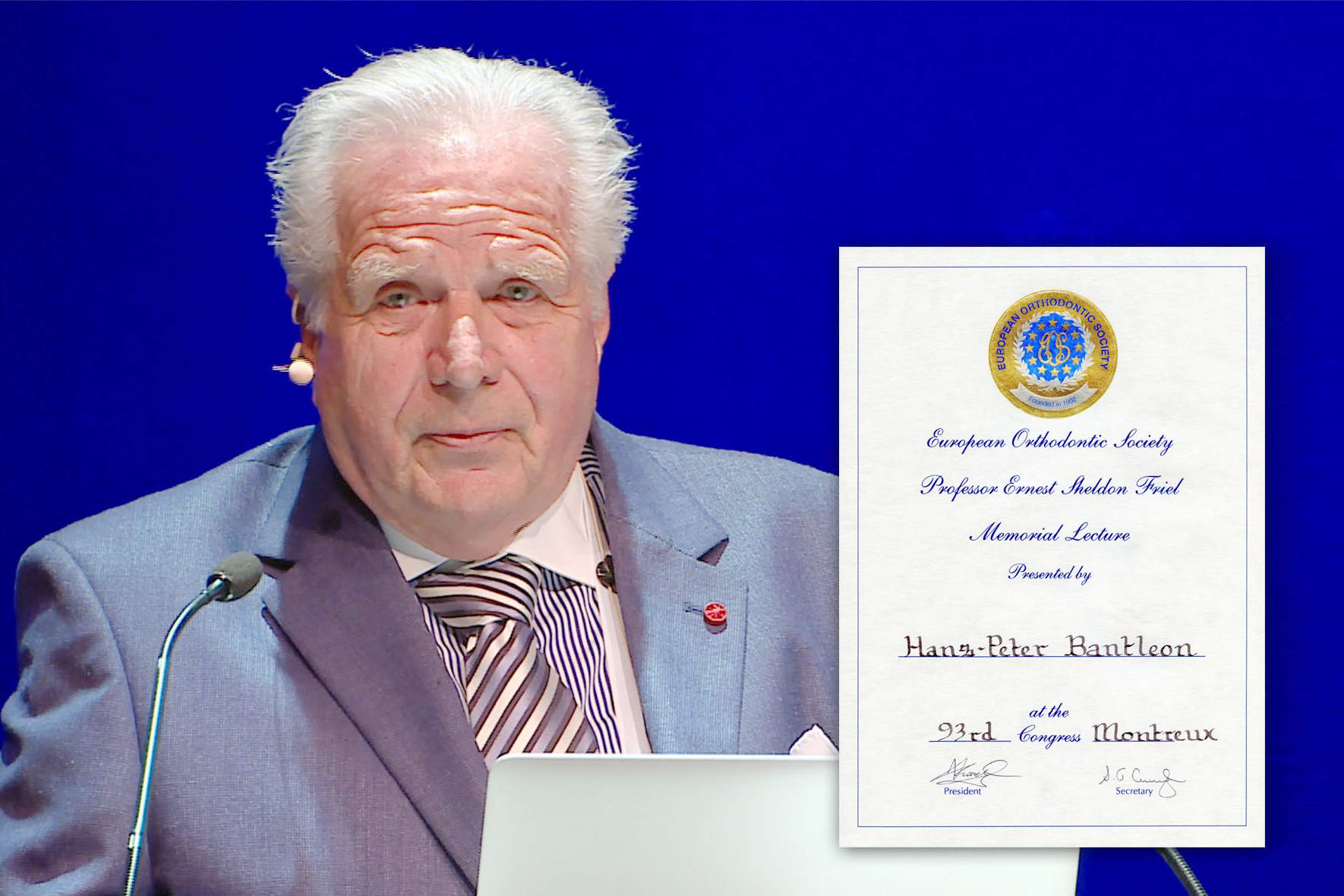 Am diesjährigen 93rd Congress of the European Orthodontic Society vom 5. - 10. Juni in Montreux, Schweiz, erhielt O. Univ.-Prof. Dr. Hans-Peter Bantleon die Nominierung, die "Sheldon Friel Memorial Lecture" zu halten. Dieser Vor­trag leitet seit 1974 den Kongress der European Orthodontic Society ein und zählt zu den höchsten Auszeichnungen, die Kieferortho­pädInnen in ihrer gesamten Karriere zuteil werden kann.
Herr O. Univ.­Prof. Dr. Bantleon fokussierte sich in seinem Vortrag auf die aktuellsten Forschungsschwerpunkte seines kieferorthopädischen Bereichs der Universitätszahnklinik Wien. Das erste Thema behandelte den bukkal hochstehen­ den Eckzahn und die Kräfte, die während der Nivellierung
mit einem durchgängigen Bogen erzeugt werden. Die zweite Thematik handelte von den Auswirkungen einer Stoßwellen­applikation auf die Zahnbewegung. Im dritten Teil verglich er Multiloop Spee­ und Antispee­ Bögen mit TMA Spee­ und Antispee­ Bögen auf ihre Wirksamkeit in der Behandlung des offenen Bisses. Seine gebotenen Themen ermöglichten einen exzellenten Einblick in die aktuellsten Forschungs­schwerpunkte mit klinischer Relevanz für die Tätigkeit in der kieferorthopädischen Ordination.
Diese Auszeichnung ist Bestätigung und Siegel für seine her­ausragende wissenschaftliche Kompetenz im Fach Kiefer­orthopädie. Die Universitätszahnklinik Wien gratuliert herzlich!